There is nothing in this world like getting a phone call from your Marine. It is amazing. Even when it cuts out four times and he has to call you back. Or when it ends with, "Oh crap Sweetie I got to go. Now. Loveyoubye." *click* (Don't worry I got a message an hour later on facebook that he was fine and not to worry, does he know me or what?) But it is still amazing and totally worth it.
I made these today...
http://allrecipes.com/Recipe/Cake-in-a-Jar/Detail.aspx
I am so excited to mail them to Ryan. I managed to get about seven of them. They are cakes in jars! Basically you bake any cake mix, one cup in a wide mouth mason jar, and then you boil the lids. When the cakes are done baking you take the lid out of the boiling water and sc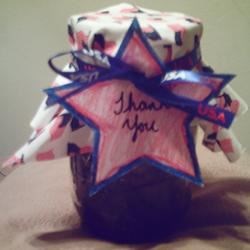 rew it on the jar. As it cools it seals and it will keep for about a month. Hopefully!!!! I got this on the USMC_gals website and I am so excited to see if they make it to him! I made chocolate cake and I got a can of chocolate icing to put in the box as well. Then thanks to another idea I saw I am going to decorate the jars and call them "Jarhead Cakes". I am a little too excited about this craft project!!! I love making care packages and I think he will really like this one. You know, if it makes it there! My first care pacakge sent July 20th still has yet to arrive... oy. I sent another yesterday or so and this one tomorrow. Actually probably two. Haha. And I am putting a box together for two of his close friends, I just need one of them to get back to me with his address. The other I have.
It is almost 3am. What am I doing up?!!? I want to go visit friends in NYC tomorrow so I need sleep.
PS - On facebook do not get the Farm Town application. It is so fricken addicting!! My mom started me on it and I can't stop!