Next stop: Toulon! Part of Provence, France. Also known as the French Riviera.
The morning we were in Toulon I woke up not feeling very well. I get seasick so I was wearing a prescription strength patch that lasted three days before I had to put on another one. The rested right below my ear near my jaw and you could barely see it. Well, I didn't ever need to wear them longer than three days before so I didn't realize you needed to switch sides when you added a new patch. I didn't do that. So I woke up and ate breakfast that we got via room service and realized I couldn't see. My vision blurred so badly I could barely read the menu! Then breakfast came back up. Ryan mentioned me going to "sick bay" which I prompty shut down.
The cruise our ship did before ours had a huge norovirus outbreak. Half the ship was quarantined to their rooms. So they were big on if you had stomach problems locking them down. I knew mine were patch related (since 1, I had norovirus before, you don't forget what it feels like and 2, Ryan would have had symptoms too since it is severely contagious) so no sick bay for me. Our room was small, an interior, and the idea of not being able to leave for days made me claustrophobic, I felt better getting on deck for sure. I felt nauseous but it was doable. Plus we only had a day in each port, if I stayed in bed there was a chance I'd never see that place again! So I now knew next time to change my patch at night AND to switch sides. Sigh.
Getting air on deck before heading to shore. I stood there with Ryan for awhile getting my bearings back.
Toulon was one of the few places that provided free transport into the town. We got on a small boat that zoomed us across the river into the main port.
Once we got on shore we saw a large market taking place and decided to head straight there to walk around a bit. There was a church off to the left, St Francois de Paule, that we stopped in first.
After walking around a bit we decided to try and find somewhere to have lunch. We didn't have a map and just kind of wandered around anyplace that looked interesting. Ryan engaged himself in a very interesting conversation with some locals... :P
Near the French Navy Base
We finally stopped by a theatre for a photo and noticed a bistro nearby that seemed good for lunch. I was feeling better at this point so we stopped to peek at the menu. The waiter came out and started speaking to us in semi decent English and we really appreciated the effort! Bistrot de Cesar wins!
Ryan asked the waiter what the best thing to order was and ended up with a Hangar Steak with pepper sauce that was so unbelievably tender and delicious. I remembered being in France (about 12 years ago!) and ordering a Croque Monsieur and it changing my life, so I got it again. Oh man. Say what you want about french food but Ryan and I agreed this was probably the best meal of our entire trip.
Especially when we added dessert. Naturally Ryan had an espresso but we shared a banana nutella crepe with real whipped cream and chocolate sauce. Even between the two of us and how delicious it was we couldn't finish it. Travesty.
Ryan also quickly learned he was very lucky we were already married. I took pictures of basically every wedding dress shop we passed. They were so fabulous, how could I resist??
After lunch we climbed the steps of the theatre and sat in the warm sunlight digesting our food. The blue chairs in the picture below are where we ate lunch, so it wasn't far. The wedding dress shop is just behind the cafe. But after awhile we decided to get back on our feet and explore some more.
We journeyed upwards, away from the harbor and found some fun side streets, a train station and saw some pretty rolling hills and mountains in the distance.
Eventually we started to wander back and we found a pretty little park nestled in the city. We took our time strolling through there, observing locals walking dogs, lunching and picnicking.
The park also had a stunning war memorial.
After the park we walked near the Marine Museum and I persuaded Ryan to take a picture there for me. My husband is a patient man for tolerating my puns. Cause he's a
Marine
, get it??
Yes, I know I am obnoxious.
Sadly at this point I started not feeling well again. We found a small cafe at the harbor and as you can tell from our drink choices I was back to icky. I was hoping to bounce back but once we got on the little boat back to the ship I just felt worse. I am a terrible sick person so I sadly went back to our room and slept on and off the rest of the night. No bar hopping, clubs or dinner for me.
Next stop: Barcelona, Spain!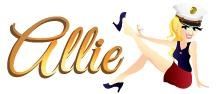 You can follow along with all of the entries from our trip
here
!