Ok, things are finally starting to calm down, so it is time to write about our amazing trip! We had a wonderful time. It was quickly planned, as in booked on a Wednesday and leaving the following Friday quick! We went through ITT on base to book but we found the cruise ourselves thanks to Google. Going in the off season made it cheaper, except for last minute air fare to Rome, and it was a great way for us to see a lot of places on a budget.
We drove to Raleigh and met my Dad at the airport where he took the Dup from us to have my parents watch her while we were gone. We flew from Raleigh to Philadelphia (and had some cheesesteak!) then to Rome. We weren't seated together for any of our flights but at least for the long flights some very kind people switched with us! Ryan got some free drinks from the flight attendant when they realized he was military and I tried my best to nap. We finally landed in Rome and blearily tried to find our way to baggage claim and then to find the cruise consultant.
Luckily we found the meeting place without much difficulty and dropped off our luggage to get taken to the ship. We had a little free time so we grabbed some drinks (Coca Cola Light for me and water for Ryan) and sat outside in the nice Rome air until we had to get on the bus. The bus ride was gorgeous, I kept just staring out the window at everything! It was wonderful. Ryan on the other hand promptly fell asleep. Party pooper.
He was passed out
Gorgeous!
Welcome to Civitavecchia
Enjoying our first sunset on the Jade
We made it to the ship, went through customs again, and then wandered the ship a bit. We stopped by the buffet before our lifeboat drill and then found our room. Our luggage made it in one piece so we promptly unpacked while watching Despicable Me 2. It was tempting to pass out but we forced ourselves to go to one of the free dining rooms, the Grand Pacific, for dinner. I had some gnocchi caprese that was AMAZING before we explored the ship more and passed out in a very comfy bed.
The next morning we docked in Livorno and had a scheduled shore excursion from the ship to go into Pisa and Florence. We had to be up and in the theatre by 8 so we quickly hit the buffet breakfast before joining the excursion. We got on a bus to Pisa, our first stop. I had been there years ago on a study abroad trip but I do love seeing the Leaning Tower!! Ryan and I loved walking around the buildings and ducking down some side streets before having to get back on the bus.
And of course we had to get the touristy picture.


And a normal one
And a few more of these!
One handed!!
Geeze does that tower lean!
Unfortunately we did not have the time to go up the tower since we were on a schedule but after hearing about the state of the stairs (and, you know, how
many
there are) I was ok with that!
Some back streets of Pisa. It was still pretty early so it was kind of empty.
After wandering Pisa for awhile we got back on the bus to head to Florence. Italy had received a LOT of rain lately so some of the tiny roads we were meant to take were underwater. I was pretty impressed with our driver. I cannot be easy to turn a huge charter bus around on those tiny Tuscany streets. Luckily we had some helpful locals to get us turned around.
We were supposed to go that way...
The very full river.
The drive was a bit more than an hour and again I was staring out the window at everything. I am trying not to bombard you all with too many pictures but I will fail miserable. Can I live in Italy? Please?
I will take that one! Trees and all.
Next stop: Florence!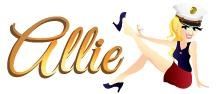 You can follow along with all of the entries from our trip
here
!