After a rough night last night (hell a rough week!) this made my day...
That would be a
gourmet
popsicle. Seriously. At work today our building had a transportation survey, so basically if you filled out one sheet of paper about how you get to work, you get a free ice pop. Mine was
Strawberry Ginger Lemonade
. Seriously. It was the best ice pop I ever had in my life. Sitting by the fountain on my lunch break enjoying it in the sun.... bliss.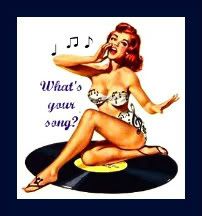 This song has been stuck in my head all day! I do
love
the Goo Goo Dolls. I saw them twice, once in concert with the Counting Crows and once at the 9:30 club in DC. They are so much fun to see live and have a
ton
of energy.
See that blue guitar pic on John Rzeznik's guitar?
Mine! I dropped my cell phone and lost the back of it, so as I am trying not to get crushed crawling on the ground (since the 9:30 club is first come first serve and standing only) trying to find the back to my phone I feel something hit me in the head... and I look down and I saw the pic! Super excited. I stood up and waved thanks and he totally waved back. Love it.
Stay With You is one of my favorites, so enjoy!
Link up with
Goodnight Moon
to join in the fun.