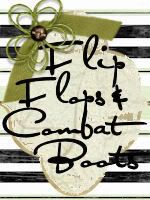 I have to share this link to Nicole's blog. Her blog is amazing and puts my dinky little one horribly to shame! She too is a newly wed Marine wife and she sells AVON to boot so check her out! I know most people who follow me probably follow her too, but feel free to head over there if you aren't a follower already and let her know Allie sent you! She is also doing an awesome giveaway (part of the reason behind my little plug here) so check that out too.
One of these days I am going to get a good looking blog. Three bar layout, scrolling button holder for all the amazing blogs I follow, great graphics, pictures of me and Ryan with all sorts of good stuff and if I can dare to dream... a button of my own!
But alas I am graphically and technologically challenged. So here is to hoping I win the contest over at
Mr Mrs and Lil Miss
.
Is it sad I am doing laundry for the second time in less than a week to use internet at the barracks on my day off? Mind you I had lunch with my husband too... so it is ok right? Heading up for the first Iwo parade tonight!!